Energy Conservation Incentive Programs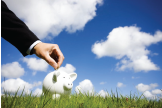 Most energy conservation programs are sponsored by state or local governments OR by public utilities. These programs encourage homeowners or other end-users to purchase high energy efficient products by offering cash rebates or tax credits. By far the biggest eligibility criteria for these programs is ENERGY STAR® Program qualification.
Keystone is a National Fenestration Rating Council (NFRC) licensed Inspection Agency (IA). The NFRC Certification Program offers fenestration (window and door) manufacturers a third party verified, nationally-recognized method for demonstrating product U Factor, Solar Heat Gain Coefficient (SHGC) and other energy performance characteristics.

Keystone's StarGuardTM Energy Performance Certification Programs qualify imaging equipment products for the EPA's ENERGY STAR® Program. Keystone Certifications is an EPA recognized Certification Body (CB).