Fenestration Product Labeling for Canadian Codes & Energy Incentive Programs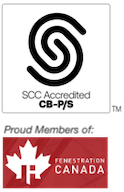 Manufacturers apply certification labels to fenestration products to show conformance with building codes and energy incentive programs.
The Keystone Fenestration Certification Program is accredited by the Standards Council of Canada (SCC) to offer both CSA A440.2 thermal performance and NAFS/CSA A440S1 structural performance certifications, qualifying certified products for the Canadian Energy Star Program, the anticipated tiered code metrics of the next National Building Code / National Energy Code of Canada, and/or Provincial requirements such as the B.C. Stepcode.
Keystone Certifications offers our Fenestration program licensees a series of certification labels specifically designed to demonstrate conformance with Canadian market requirements:
1. Keystone Permanent Certification Labels - applied to certified fenestration and intended to remain affixed for the lifetime of the product, Keystone permanent labels can demonstrate thermal performance, structural performance or both, and are available in both English & French:



2. Keystone Temporary Certification Labels - applied to certified fenestration in addition to permanent labels to demonstrate energy performance ratings, temporary labels are affixed to an interior glazing surface, easily removed and are available with or without the Canadian ENERGY STAR qualification: